We Are Pipeline For Diamond Tool Market
Lieber and Solow are a nationwide supplier of rough natural diamonds. Rough natural industrial diamonds are a crucial material for many traditional manufacturing processes, as well as new technologies and emerging applications. We partner with many great outlets around the globe to bring our customer base exactly what they want and need. And in many instances, go out of our way to get you what you want and need. In short, working together with Lieber and Solow is your key to the most extensive supply line for the diamond tool market. We are proud to maintain a full inventory of all sizes, crystal types, orientations and price points.
So please, do not hesitate to contact us today for more information. We will gladly answer any and all questions you may have regarding our diamond selection. You can also give our office a call by dialing 212-354-4060. When you call, we can go over the various price points available to you.
What Are Rough Natural Diamonds?
Rough natural diamonds are diamond rocks that have not been cut or processed yet. These diamonds come in a variety of naturally occurring shapes, which we sell. These shapes include octahedrons, cubic and triangular. The diamond cutter has great flexibility when it comes to the style of the diamond.
Rough natural diamonds also go by the name "raw diamonds." This name can also refer to a type of diamond that is not fully developed. Or it can have less brilliance. When it comes to forming diamonds, extreme heat and pressure under the ground creates the diamond. These factors fuse the carbon atoms to a specified structure. So in order to get a raw diamond, the diamond is mined out early. It does not get the full time it needs to develop, which is how we get rough natural diamonds.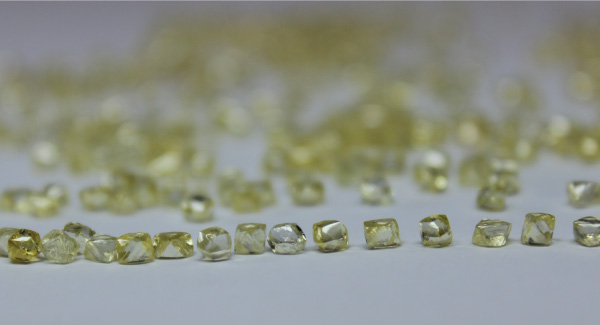 We have a great selection of industrial diamonds available at various price points. From high-end stress-free stones to lower-quality materials, we have it all! Octahedron and dodecahedron diamond formations gives the toolmaker the advantage of naturally formed points for all single point dressing applications. The size, quality, and price points are specified by each maker in order to meet any budget requirements.
Proud Partner With DeBeers
Lieber and Solow is a DeBeers Global Industrial Sightholder. That is a mouthful, but what does it actually mean? Well, it means that we work with the world's largest sources of industrial diamonds, which is DeBeers. They are a company dedicated to the supply of industrial materials throughout the world. They bring us a steady and stable supply of industrial rough diamonds, which we then pass on to our clientele. This is a direct line from the mines to the tool manufacturers to the end-users of natural industrial diamonds. All of this happens because of our partnership this DeBeers. Our buying team backs up these supplies with purchases from a group of dedicated direct and indirect sources of industrial rough diamonds specifically for industrial applications. Get the best deal possible when it comes to natural rough diamonds in the marketplace.
Call For Price Points on Rough Natural Diamonds
Lieber and Solow has years of experience providing high quality natural rough diamonds to customers around the United States of America. We are based in New York City, but ably work with clients around the world. Our sourcing teams are continuously at work to ensure our customers with on-time deliveries and no questions asked. So please, for more information about the various price points available to you, give our office a call! And we will work with you to go over the various price points of what we have available. The number to call to speak to someone at our office is 212-354-4060. When you call, we will go over all the details with with!
Lieber & Solow
1156 Avenue of the Americas
Suite 401
New York, New York 10036
212-354-4060